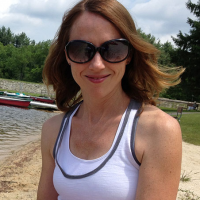 Shana Gorian
Children's
Shana Gorian is the author of the Rosco the Rascal series, in which a sometimes rascally but always lovable German shepherd uses his heroic nature to help his pals, James and Mandy, face their fears and overcome life's obstacles. The stories are aimed at kids ages 6-10.

Originally from Western Pennsylvania, Shana has lived in Southern California for over 20 years. She spends her time with her husband and two children, and the real Rosco, their German shepherd - an adorable mischief-maker who continually inspires new stories.

Shana attended the University of Pittsburgh, earning her Bachelor of Arts in English Writing and later, an AA in graphic design at City College of San Diego. She went on to work in website design for nearly a decade. But she always wanted to venture back to her love of the written word and try her hand at fiction. Ten years into motherhood, she self-published her first children's book. More than five years later, she is still going strong, working on her sixth book in the series.
Recommended Featured Books
""With a consistent mystery, a little bit of danger, and a wonderful and healing ending, Shana snares you into Rosco's doggie mind and antics and the family that he must protect and serve. This is an engaging and wonderful story that is well written, and with a well designed story line." Tom, Amazon Reviewer on Rosco the Rascal In the Land of Snow"
""I know what I liked as a child, and I don't do any book that I, as a child, wouldn't have liked.""
""You have to write the book that wants to be written. And if the book will be too difficult for grown-ups, then you write it for children.""